Graham Reid | | <1 min read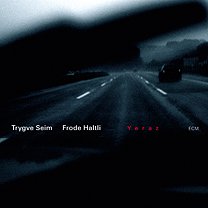 One for those with refined tastes, I suspect: tenor and soprano saxophonist Seim in a duo outing with accordion player Haltli which traverses a lot of territory (the title track is an Armenian folk song, they cover Bob Marley's Redemption Song and music by Gurdjieff, they acknowledge Tom Waits in Waits for Waltz) but much of which seems overly familiar from the now vast ECM Records' catalogue.
Longtime ECM listeners may hear echoes of Jan Garbarek and John Surman among others in Seim's playing, and the accordion is now not as uncommon as it once was in this introspective improvised European jazz. And while this is by turns lyrical or melancholy, these too are familiar qualities.
Subtle, an intuitive understanding between the players and certainly a beautiful sadness. But not one for those with only a passing interest in this area.
With a nice shiraz I think.
NB: The posted clip is from a previous album by Seim, and it starts very quietly.