Graham Reid | | 1 min read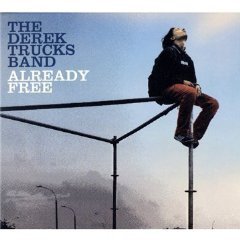 Considered by Rolling Stone to be one the top 100 guitarists, this child prodigy on slide guitar started sitting in with the Allman Brothers when he was nine, became a full member a decade later and between times had formed his own band (most of which he still carries) and sat in with Dylan.
Since then he's toured with Clapton at his invitation and been a regular with the Allmans, but as the very modest and likeable Trucks tells Elsewhere in an interview about his career and this album, he also needed to step away from the curiosity of being the kid in the Allmans: so he explored jazz and world music (those connections appeared on his last album Songlines).
For this, his seventh album however he keeps things real tight in short and snappy original songs (nothing much more than five minutes, most less) and some judicously chosen covers (Dylan's Down in the Flood, Dan Penn and Spooner Oldham's country-soul classic Sweet Inspiration among them).
So while not a showcase for his extraordinary slide playing -- from sky-scaling passages to gentle weeping -- it actually sounds the better for it, and in gravelly singer Mike Mattison he has someone to compliment his most earthy playing.
This a real "band" album (Trucks wife, the acclaimed blues singer Susan Tedeschi, makes a few discreet appearances) and the tightness of their road-hardened sound is apparent and admirable.
This has been Trucks' breakthough album in the States and it is easy to hear why: there is a diversity but coherence in the music from slow bluesy ballads like Maybe This Time and the lovely Back Where I Started featuring Tedeschi on lead vocals to soulful sounds, country blues and what will obviously be live favourites.
The songwriting is also consistently strong and in Down Don't Bother Me he has a potential crossover single. With subtle and soulful (and sometimes funky) organ touches, the most light of Afro-percussion, gentle acoustic work, hints of his interest in Indian music and much more pulled in tight there is a lot to keep the attention.
Really quite something, and from the liner notes written in part by John Snyder, Trucks also sounds deeply spiritual and intellectual, qualities along with his remarkable career so far (he isn't yet 30) that he brings to this terrific album.
It's the blues, but more so.