Graham Reid | | <1 min read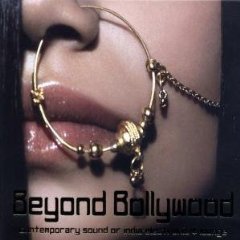 The title here might suggest a compilation album that is taking you past the standard Bollywood soundtrack music, but it is actually misleading: it simply sweeps up another very common style, that of "the contemporary sound of India-electronica and lounge".
Exotic chill out in other words. So far so familiar.
But what sets this apart a little from many other such collections are the big name players here: Talvin Singh, Nitin Sawhney, Badmarsh and Shri, Bombay Dub Orchestra, Karsh Kale . . . Yes, most of these are also familiar on other such collections but in this nicely paced context and sometimes in remixes this all fits together with a freshness and grand sweep that is very appealing.
Many Elsewhere listeners will have been down this path before, but if you haven't -- or it has been some time - then this one warrants attention.
Very much in the exotic grooves, the electronic washes and orchestration, and of course the gently driving tabla, keening vocals . . .
Nice one all round.
And once you are done here you might like to kick up a gear with Bollywood Dreams: Bhangra or make the big leap into the hardcore, hip-hop shouty street sound of Urban Asian which will surely wake you up.