Graham Reid | | 1 min read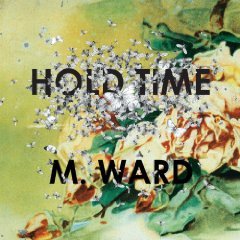 The previous album by M Ward, Post-War, was one of the Best of Elsewhere 2006 albums for its dark hues, free-range musical approach (blues, alt.rock, indie-folk, Americana etc) and the fact it had something to say.
At that time I noted his musical magpie tendencies (a good thing) and because of its layers said it would stand the test of time. It has round my way, and although I missed his outing with Zooey Deschanel as She & Him, it is pleasure to get another album under his own name.
This again betrays his appealing cut'n'paste style but here the touchstone is the elegant simplicity of Buddy Holly pop (with a smattering of Sixties-flavoured Beach Boys surf-pop harmonies on To Save Me) and a little old time country blues (One Hundred Million Years, Fisher of Men and Don Gibson's Oh Lonesome Me given a deep and dark reading with Lucinda Williams).
But it is the spirit of Holly who inhabits this music, from the Everyday-flavoured strum of For Beginners through Jailbird and obviously in his country-inflected cover of Holly's Rave On (which you'd expect to hear while sitting under a palm tree on a Pacific beach).
But as always with Ward (out of Oregon) it is what he also brings: the melancholy strings and emotional distance on the downbeat balladry of the title track, the muted rockabilly of Never Had Nobody Like You (with a little T Rex in the mix), the touch of Velvet Underground guitars, the gorgeous and subtle guitar work on Stars of Leo, the Johhny Cash train-time guitar on Fisher of Men . . .
And again Ward has something about life and love and the oddness of it all.
M Ward is someone quite special and as I mentioned previously about Post-War, you could analyse all the nuances and references for a long time to come. But this is music which also washes over you with the feel of slightly disconcerting familiarity. And he is quite some guitar player.
Good stuff.