Graham Reid | | 1 min read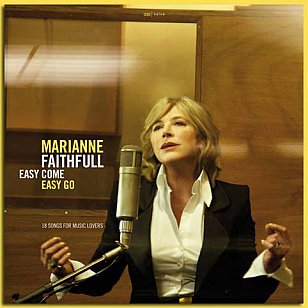 The cracked and distinctive vocals of Faithfull have, as with Leonard Cohen, a devoted following -- and this double album which sounds typically whisky'n'smoke-cured is perhaps for longtime loyalists.
Helmed by producer and musical conceptualist Hal Willner (who did, among other fascinating albums, the Charles Mingus tribute Weird Nightmare), this all-star collision includes among its vast cast Nick Cave, Jarvis Cocker, Cat Power, Keith Richards, Teddy Thompson, Rufus Wainwright, Antony, Sean Lennon . . . . (And you can tell by all the links there that these are favourites at Elsewhere.)
The material is equally inclusive: songs from Morrissey (Dear God Please Help Me), Judee Sill (The Phoenix), Smokey Robinson (Ooh Baby Baby), Randy Newman (In Germany Before the War) rub shoulders with Merle Haggard's Sing Me Back Home, Somewhere from West Side Story, Ellington's Solitude, Dolly Parton's Down From Dover and Brian Eno's How Many Worlds. Oh, and the traditional Irish song Flandyke Shore.
Willner and Faithfull have been down this path before on Strange Weather in '87 which resurrected her career, again an album where contemporary writers' material sat alongside dark material from the blues, Broadway and The Great American Songbook.
The breadth of material makes for a certain uneveness as might be expected, but at its best (and the best far outweighs the rest) Faithfull delivers some heartbreaking performances: it is impossible not to be moved by her dramatic treatment of the Morrissey piece (although the swelling arrangement may seem a bit much).
With her scuffed and deep vocals, she is also comfortable in the blues (the traditional Kimbie) but it is on the swirling quasi-psychedelic Salvation where she really breaks out of her established territory and impresses.
Subtitling this "18 Songs for Music Lovers" might be someone's idea of telling you what to think, but the arrangements for brass band, strings, the oddball guitars of Marc Ribot (and Sean Lennon shaving off a little of Walking on Thin Ice for the abrasive Hold On, Hold On) and the discreet supporting cast will certainly keep you diverted.
And while the breadth of this project might be daunting for the casual Faithfull follower, this one offers considerable long-term rewards.