Graham Reid | | 1 min read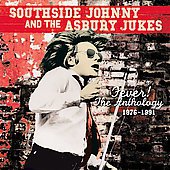 The excellent reissue label out of Australia, Raven, has appeared at Elsewhere previously with its essential Velvet Underground collection What Goes On, the Gene Clark compilation American Dreamer and others.
What Raven achieves which many other similar companies don't is multi-label compilations which means you get a more true picture of the artist concerned. And they have intelligent liner essays by people who really know the acts.
Southside Johnny was one of those coulda-been-a-contender guys out of New Jersey who counted among his friends and admirers another local boy, Bruce Springsteen. As with the early E Street band, Southside Johnny and the Asbury Jukes pulled together a winning amalgamation of soul revue, rock'n'roll, blues, big horns blasting and some aching ballads.
They were popular but they should have been huge, they certainly had help: E Street's Steven Van Zandt pproduced their debut album, Ronnie Spector came on board to sing a deut with soulful Southside Johnny, Springsteen contributed some songs and sang on the album . . . When that debut I Don't Want Top Go Home failed to ignite the charts in '76 that only meant that they would up their game for the sequel This Time It's For Real (three co-writes with Springsteen, eight songs from producer Van Zandt).
It was however their third album Hearts of Stone which was their diamond, but although widely hailed by critics it too refused to sell in the way record companies expect. Epic dropped them and they moved on to Mercury for The Jukes in '79 which they recorded at Muscle Shoals. Again, despite being much more accessible for radio programmers, the album and its singles didn't take off.
They recorded Love is a Sacrifice in 1980 which took them right back to their roots . . .
You can guess the rest: the live album in '81 Reach Up and Touch The Sky captured the magic of them on stage but not the imagination of the public, there were other albums of diminishing musical and fiscal returns, Better Days in '91 seemed to have the potential as a late career peak but, to use the words of Mark Deming in the liner notes here "the albums sank like a stone".
Southside Johnny Lyon still records, still has an association with various old friends from the Jersey days but his was a story of great promise and the dream denied.
This excellent 20 song collection pulls fairly from all parts of that long career but it is in the ballads where you can hear just how strong these guys could be. They were unashamedly retro in their view (the man who was allegedly the future of rock'n'roll also engaged in a lot of looking back) and drew from the great soul revue style as much as Fifties and Sixties rock'n'roll.
If Southside Johnny and the Asbury Jukes went past you then here is the wonderful one-stop shop. Although if you want the full picture you can buy his albums out of discount bins for about $2 a pop these days.
Rock'n'roll - and Raven -- never forgets.