Graham Reid | | <1 min read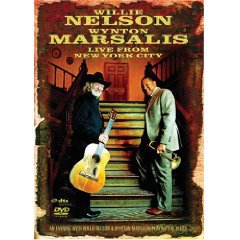 While this beautifully shot concert film might not persuade you that this meeting of minds was as thrilling as the relentlessly theorising Wynton Marsalis makes it out to be, there are considerable pleasures to be had hearing Willie Nelson's deliberately languid vocals with the small and classy jazz group on hand. And harmonica master Mickey Raphael who effortless sits between them.
Director Danny Clinch doesn't spare the cameras (my guess is there would be at least a dozen at the concerts which were filmed over two nights and spliced seamlessly), and he adds in evocative street scenes, discreet shots of the audience, and some back stage interviews and rehearsal footage.
The setting is spectacular also: the Allen Room at the Lincoln Centre has huge windows which allows for a backdrop of New York at night.
The material ranges from standards (Georgia, Caldonia, Stardust) and old jazz (Basin Street Blues, Ain't Nobody's Business) to swingalong material (Sweet Georgia Brown, Down By The Riverside) and Don't Get Around Much Anymore.
Great band (Dan Nimmer on piano steals every solo) and good humour, but not quite as innovative and essential as some would have you believe.
But fine music and real nice to look at . . . . and I'd bet there had never been a more battered acoustic guitar taken into that up-market venue than Willie's lovingly road-damaged instrument.