Graham Reid | | 1 min read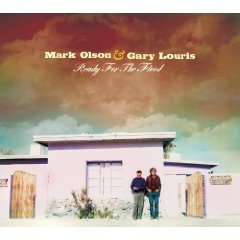 Given that albums aren't recorded in the order we hear them it's surprising how many peter out after the halfway mark: I guess that's what you call "playing your aces first".
This album by alt.country/Americana luminaries Olson and Louris who last played together in the Jayhawks over a decade ago does the opposite however: after the halfway mark (in truth well before it), the songs seem to get stronger. Perhaps that's also due to the casual familiarity of these voices growing on you?
Recorded by the Black Crowes' Chris Robinson who keeps things acoustic, simple and pleasingly spare, these lyrically interesting songs work sometimes spare folk-rock changes or seem to have sprung from pre-Eagles California as much as somewhere Southern and rural. Certainly the spirit of James Taylor and even Nick Drake is here walking alongside that of Gram Parsons and Levon Helm. There's Anglo-folk alongside the songsmith smarts of a Paul Simon.
Gentle finger-picking underpins soft songs such as Saturday Morning on Sunday Street where the close harmonies glisten, in other places the tempo is kicked up in a low pop-rock Creedence-cum-John Fogerty manner (Chamberlain, SD with Robinson on harmonica) and the voices have a more abrasive and sand-paper quality.
There is the obligatory death ballad here (Bloody Hands) but mostly this is a melancholy and thoughtful album that impresses on a first hearing for its low-key nature -- and grows in stature as it goes. Both over time and in the running order.
PS. Last year Louris released the very fine Vagabonds album, also recorded by Robinson. Just released is the Acoustic Vagabonds EP, six Vagabonds tracks done acoustically. Nice.