Graham Reid | | 2 min read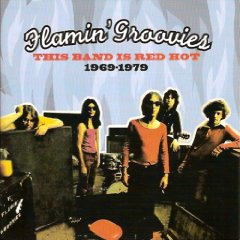 About 30 years ago during the UK punk/post-punk period a friend in London would send me cassettes of all the exciting new music he was hearing: Little Bob Story from France covering the Small Faces' All or Nothing, the Runaway's Cherry Bomb, the first Dire Straits single Sultans of Swing with Mark Knopfler's sublime guitar playing, Graham Parker and the Rumour, Sham 69, Nick Lowe, Mikey Dread, the Clash, the Flamin' Groovies' Shake Some Action . . .
More fool me, but for years I thought the Flamin' Groovies were an American new wave garage band of that era and I had no idea of their lengthy pedigree.
Their classic single Shake Some Action of '77 actually came at the tail end of their credible career (they stumbled on for a bit after the period this multi-label collection covers) and they began life in San Francisco in the late Sixties as a kind of shabby garageband (sounding similar to a rockabilly version of Britain's Downliners Sect of a few years previous on the opener here).
They also had weird country inclinations and shaved a little off Screamin' Jay Hawkins' spooky-voodoo lyrics (Comin After Me) and listening to that material here -- a world removed from the ethereal and layered pop of Shake Some Action -- it's hard to know how seriously they were taking themselves.
(Maybe not too much, when singer-songwriter Roy Loney moved on to found the Phantom Movers the opening line on one of their albums was the classic "I was born, very young.")
And across these 24 tracks the Groovies are a lot of bands: there is Stones riff-rock of the Sticky Fingers period, pre-punk on Teenage Head from '72, a lot of British Beat of '65 in their middle period (referencing Brian Poole and the Tremeloes, Billy J Kramer etc) and much more.
Their classic period came with the Dave Edmunds-produced Shake Some Action album but even here they were, as always, a band out of time. Their sharp harmony pop on You Tore Me Down, Yes It's True and I Saw Her (hints of the Moody Blues!) could have come from a decade previous. There are hints of the Beach Boys' Pet Sounds which was woefully unfashionable in the punk period, and in places they have some of that Don't Fear The Reaper quality. Good Laugh Mun could have slipped off a Searchers album from '66.
So here was a band which burst out with a blast of early Sixties r'n'b garage in the midst of the hippie era, played wonky country rock and rockabilly way before it was fashionable, and at the height of punk/new wave were crafting songs that wouldn't have disgraced a British Beat Boom album from the mid Sixties. Add in a changing line-up (firing their songwriter wasn't the smartest of ideas and lead to their slow demise) and you can see why the Flamin' Groovies never quite crossed into the mainstream.
This is a valuable sampler and when you hit a duff track (and there are three) you just confidently fast forward to the next one knowing it will be a minor classic. But then look at when it was recorded and you'll shake your head.
A band out of time indeed.