Graham Reid | | <1 min read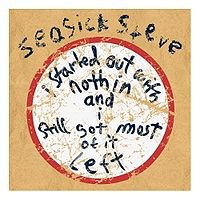 Sixtysomething Steve Wold appears to have been an authentic, rail-ridin' itinerant (although we can guess some exaggeration has gone on) and it seems he could count among his friends in a long life Janis Joplin, Joni Mitchell and Kurt Cobain,and he also worked as a producer and engineer in Seattle.
Latterly he has achieved considerable fame and attention in the UK following an appearance on a Jools Holland show playing one of his adapted guitars. He's a slide player with a real aggressive edge and on this album Grinderman fit in just right on one track, Ruby Turner brings some soul blues to Happy Man, and KT Tunstall pops by also.
But mainly this is Steve's show and at times his rural blues recalls a more gritty Eric Bibb or Malcolm Holcombe, in other places he sings hard edged rock-blues and spins downhome narratives about how to protect yourself from tics (Chiggers), the dubious merits of cheap wine (the gritty Thunderbird) and ridin' the rail. There's a touch of Howlin' Wolf about him.
There is a shaggy dog narrative tucked away after the last track, a long and meandering story which almost has a point but is kind of funny.
Seasick Steve may be pandering a little to his new-found audience but there's no denying the emotional power and ragged slide style he brings to this, his major label debut.