Graham Reid | | 2 min read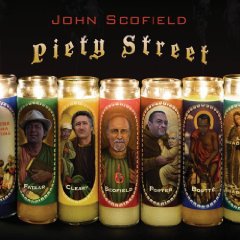 Guitarist John Scofield -- previously interviewed at Elsewhere and who played blinding free jazz at times when he appeared here with saxophonist Joe Lovano last year -- is either a music chameleon or a man with a short attention span: he played blues fusion with Miles Davis; has duelled with fellow plank spankers Pat Metheny and Bill Frisell; done some drum'n'bass stuff; wrote a tribute to Ray Charles; played with Kansas City pianist Jay McShann . . .
And he's still finding different and interesting territory to stake out. Piety Street -- recorded in the New Orleans street of that name with pianist Jon Cleary and drummer Ricky Fataar from Bonnie Raitt's band, local singer John Boutte and others -- finds him in gospel mode.
The guitar is turned down in the service of the song, the emotion brought up and on material like the cornerstone Motherless Child and The Old Ship of Zion the spirit of BB King is evident in Sco's taut and needle-sharp playing.
Of course Sco being a free-ranging musical intellect takes a reggae riff into one arrangement, some fast funk into another, lets Cleary off the leash on organ for some soul-funk, and closes with some country-funk gospel. He also takes on the beautiful old ballad His Eye is on the Sparrow.
Recently Sco said he wanted to return to the blues which was where he started, and here by exploring it and pulling it towards its sister, gospel, he is tapping a deep well.
When they kick in with the Wilson Pickett/Eddie Floyd/Steve Cropper soul classic Ninety Nine And A Half as a vehicle for some handclap testifying, you are reminded Mavis Staples also did this song on her remarkable We'll Never Turn Back album of two years ago.
And singer-songwriter Eric Bibb and Ruthie Foster are also exploring this gospel/blues connection (albeit in their own, very different, way).
Bibb argues the spiritual and secular sides of life have had a wedge driven between them by the commercial imperatives of the music business but that people like Sam Cooke, Little Richard, Son House, and others moved between the two, and sometimes grappled with the contradictions.
He might have also mentioned the great guitarist Roy Buchanan (1939-88) who grew up on gospel and moved into blues-rock, was a contender to replace Mick Taylor in the Stones, and all his life struggled with his carnal desires (drugs and alcohol) and his need for spiritual redemption.
Buchanan wrote some extraordinary music, none more moving that his holy ballad The Messiah Will Come Again in which he whisper-sang, "I've been in a lot of place I know I never should have been, but I believe the Messiah will come again". The song then takes flight on the back of his sublime, moving guitar.
The beautiful Angel of Death on the Scofield album is a homecoming of the kind you might expect of Buchanan, a troubled soul who died in mysterious circumstances in police cell in North Virginia after being arrested for drunkenness.
Jeff Beck dedicated his sublime version of 'Cause We've Ended As Lovers (on his '75 album Blow by Blow) to Buchanan, and Sco's treatment of Angel of Death is a distillation of blues, Buchanan, spirit and soul.
It is a standout on an album that not only delivers fine music in what sounds like a relaxing project for Sco, but also asks some profound questions.