Graham Reid | | <1 min read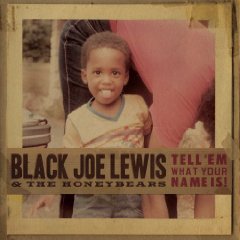 You only need to hear a few bars of the first three tracks on this one to say "James Brown". And Black Joe and band out of Austin wouldn't deny the influence.
There's also a smattering of emotional Otis, the stab of Junior Walker saxophone, the funk of Johnny "Guitar" Watson, Howlin' Wolf blues and much more distilled into these 10 urgent tracks. Real sassy and sharp urban soul funk.
But there is something more which doesn't reveal itself until a little further in: these boys unleash some ragged garageband guitar-rock which sounds like it has come from some dirty rehearsal room in Detroit in the Sixties -- and Black Joe can yelp like the great Screamin' Jay Hawkins as much as James Brown, or conjure up the salacious spirit of the Blues Magoos and Van Morrison's Gloria, or the likes of the Dirtbombs or Dead Moon.
Yep, this is an album that almost trips itself in its references, but don't let that put you off. Recorded live in the studio (it sounds it) this is a band that may only make proper sense when you see them on stage. But this is next best thing: raw, loud and barely in control.
Turn it up to 11.