Graham Reid | | 1 min read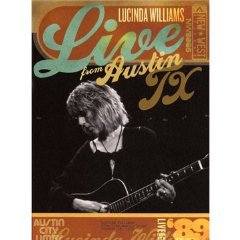 With the great Lucinda Williams due to return for long overdue concerts, it seems only right to draw attention to this DVD of her first appearance on the Austin City Limits telelvison show in 1989.
It was almost 20 years ago and at the time -- although she'd released her first album a decade previous -- she was riding on the crest of her self-titled album which had sprung the critical hits Passionate Kisses and Just Want to See You So Bad, both slices of pop-rock, the latter which could have come from the pen of the Byrds' Roger McGuinn or fallen off a Tom Petty album of the period.
But there was more to Williams than shimmering and heartfelt pop: in this concert where the set list is largely drawn from that album -- and where she appears exceedingly nervous for the first half dozen songs -- she essayed country, earthy blues and folk-framed material.
This was a very long time ago and Williams' music has travelled a long way, to become more personally revealing -- whether that be dark and melancholy or celebratory when the times have been good.
But this concert (with guitarist Gurf Morlix, bassist John Ciambotti and drummer Donald Lindley who were on the album) came from a period which many still enjoy so -- accepting that wariness (which was more evident in one of her later ACL appearances actually, that's a boring concert) -- this should be of considerable interest. Although better material would come in subsequent decades.
Williams is interviewed at Elsewhere in 2007 and her last two albums West and Little Honey made the Elsewhere Best of 2007 and 2008 lists respectively.