Graham Reid | | 2 min read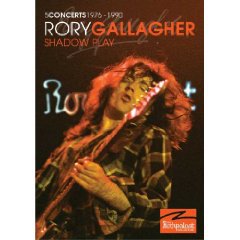 Of all the blues-based guitarists who emerged in the late Sixties, none was more self-effacing, unprepossessing and sartorially consistent than Irishman Rory Gallagher (1948-95). He shunned most of the trappings of rock excess and appeared most often in jeans and a checked shirt (two decades before Seattle grunge made lumberjack shirts a fashion item).
Gallagher was a journeyman and if he lacked the flash of his peers such as Hendrix, Clapton, Jimmy Page and Jeff Beck (or even Robin Trower), his head-down rock-blues was delivered without artifice or much in the way of showy stage shenanigans.
In the early Sixties he worked his way up through showbands in Ireland -- which were as much a proving ground for young musicians as the chitlin circuit in the US or Maori showbands in New Zealand -- and by the late Sixties had formed the power trio Taste whose album On the Boards still stands up today.
Taste were briefly a Very Big Deal Indeed and played regularly at the Marquee, opened for Cream at their farewell concert in the Royal Albert Hall, toured the US with Blind Faith, played all the major festivals of their day and won wide respect from many fellow musicians. When asked how it felt to be the greatest guitarist in the world Jimi Hendrix said, "I don't know, go ask Rory Gallagher".
Gallagher went solo after Taste broke up in 1970, although in subsequent decades he had loyal bassist Gerry McAvoy and (usually) drummer Brendan O'Neill. They were a working band and he would work them hard. They played constantly -- were huge in Germany -- and went from club to concert hall and massive festival stages with equal ease.
The formula, if you could call it that, was simple and unchanging: blues with guitar solos, and usually a good old boogie-rock number to end with. Even as far back as his Photo-Finsih album in 1978, Rip It Up writer Ken Williams noted that "to uninitiated ears, Gallagher can sound as if he has made one album many times over. There is a grain of truth to this . . ."
He was a limited songwriter, only as good as most white blues guitarists when it came to his vocals, and as Carol Clerk observed in Melody Maker in 1980, he was one of those musicians you either love or hate. More correctly you either love or simply don't get, I think.
But although his name is seldom heard these days, other than perhaps when guitarist talk , he certainly commanded a big and loyal audience. Sometimes as big as it got.
In 1977 he opened an all-star German television rock-fest and through simulcast reached an audience of more than 50 million, many of them behind the Iron Curtain.
He could play acoustic guitar, dobro and mandolin in addition to his notoriously battered 1960 Fender Stratocaster which he favoured. He opened for the best of his day, was apparently invited to join the Stones at one point (although they seem to say that about every plank-spanker these days) and was acclaimed by Clapton, Lennon and others.
He was nothing if not consistent, and those shirts eventually came into vogue.
This DVD set is an enormous amount of Gallagher -- three discs, over 10 hours of him playing live on various German Rockpalast televison shows -- but there are funny moments (not the least when the German commentator talks over Messin' with the Kid) and also some great guest appearances (Frankie Miller, Eric Burdon, Jack Bruce).
But mostly it is just Gallagher and his guitars.
Yes, it's a lot of Gallagher, too much for most I would think (too much for me) but as a legacy item you can't fault it.
In Ireland there is a statue to Gallagher, he has bars named in his honour and there are Gallagher tribute bands (which I guess don't sppend much on costumes).
Rory may be gone but there is no doubt his music lives on, especially in the hearts of those who respected a man who didn't feel the need to dress up and play the star in order to communicate with his audience.