Graham Reid | | 1 min read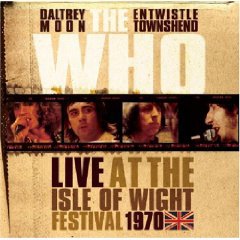 In the wake of the Who playing in New Zealand (which I missed due to an overseas engagement) a number of people asked about me posting some Who things at Elsewhere.
Their absence thus far has only been due to time constraints and timeliness: but here is an excuse to post something, the remastered reissue of their complete Isle of Wight set in 1970 during which they played a truncated version of Tommy -- but which opened and closed with other, and in many ways ,more interesting material.
Tommy had been essayed enough live by this time although this energetic and economic airing punches home by sheer volume and intensity -- but because of its familiarity it is material like the seldom heard Water (which Townshend had written for his then-incomplete Lifehouse project) which hold most interest, as well as rehits of material found on their other seminal live album Live at Leeds (Young Man Blues, Summertime Blues and medley of Shakin' All Over/Spoonful/Twist and Shout) and of course their pop singles (Substitute, My Generation and Magic Bus to close).
My spies tell me that while the Who today conjure up the impression of the old magic that there is still something lacking. For me it has always been hard to contemplate the Who without drummer Keith Moon and bassist John Entwhistle, unquestionably one of the most inventive, melodic and energised rhythm sections in rock.
And listening to this double disc reenforces that belief: even on primal rock like the Shakin' All Over medley you can hear Moon/Entwhistle exploring the spaces.
Live albums don't come much more widescreen, slightly fuzzy in places and earthy than this, and if the Who are your cup of meat it'll be right there beside the original Live at Leeds.