Graham Reid | | 2 min read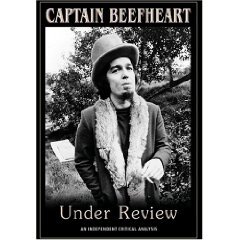 In the same series as the previously posted DVD overview of the Small Faces, but having more in common with the far superior Frank Zappa and the Mothers of Invention doco comes this chronological account of Captain Beefheart (Don Van Vliet) and his Magic Band.
Van Vliet's idiosyncratic and revolutionary blues-based music is part of rock culture but more properly belongs in some side category of its own, much like the music of Tom Waits or Zappa.
This doco --- with fascinating and honest contributions from various members of the Magic Band(s) and a parade of usual-suspect UK rock writers who know Beefheart's work -- opens the door onto the long arc of his musical career which began with the Safe As Milk album in 1967 and ended in the early Eighties with Ice Cream For Crow, after which Van Vliet retired from music and continued his life as a reclusive painter living in the desert outside Los Angeles.
Along the way Beefheart and the various Magic Band members created some of the most innovative and sometimes confrontational music of their period, and music which subsequently influenced post-punk bands and specifically people like John Lydon (post Sex Pistols), David Byrne of Talking Heads and David Thomas of Pere Ubu.
The classic Beefheart album is Trout Mask Replica (an Essential Elsewhere album) of 1969 which set a benchmark by which Van Vliet was measured thereafter. Most would say he never hit those heights again but the intelligent comments of his biographer Mike Barnes here make the case for any number of other albums (Clear Spot in '72 particularly) and while the musicians comment articulately on the making of each album and the sometimes testy group dynamics (Van Vliet had an almost Manson-like hold over them during the nine months of reharsals for Trout Mask Replica) it is left to the journalists to take the long view.
Most irritating of these however is the pompous Alan Clayton who speaks like a man who has a bad case of constipation and squeezes out every syllable like a reluctant and painful shit. You might find yourself fast-forwarding every time he comes on and pontificates, from a pulpit no less!
But the case is persuasively made -- mostly by the musicians and Barnes, although the examples of Beefheart's astonishing music played should be convincing enough -- that Van Vliet was a musical visionary often compromised by his record companies, and perhaps sometimes held back by the limitations of the later Magic Band musicians.
Although the reclusive Van Vliet doesn't appear here, the extensive use of video clips and live footage convey the energy and dynamics of the band, and bring his raw personality and sandpaper vocals to the forefront. Inspired by Howlin' Wolf, Screaming Jay Hawkins and other urban blues masters, but equally drawing from atonal avant-garde classical music and found sounds, Van Vliet was a man with a singular vision which resonates just as powerfully today as it did at the time. And still sounds as revolutionary and innovative.
In the late Nineties, the British DJ and tastemaker John Peel (a huge supporter of Beefheart) narrated an excellent doco on Beefheart (which appears in segments on You Tube) and that is certainly worth checking out.
But this one also stands up, largely due to the numerous contributions from the band and those clips which grab your attention by the throat and won't let go.
Van Vliet was a unique individual as these two hours prove.