Graham Reid | | <1 min read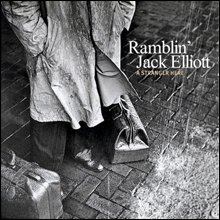 When the previous album by this one-time fellow traveller with Woody Guthrie and mentor to the young Bob Dylan arrived -- I Stand Alone of two years back -- I had to admit I thought Elliott had long since passed on.
But that album not only confirmed he was alive and well, but also pretty darned sprightly. This one produced by Joe Henry and with a band which includes David Hidalgo of Los Lobos, Van Dyke Parks and others, finds him in excellent form on a selection of Depression Era country blues, many written by people like Son House, Mississippi John Hurt and others that Elliott knew.
But the musical re-settings by Henry are inventive -- the deep pulse and unnerving guitars on Soul of a Man, piano in many songs as much as guitar, Tex-Mex touches on How Long Blues -- and so these 10 songs rise above their origins and while they remain partytime music, meditations on life, deep blues or songs with a political subtext they also have a contemporary edge. There are songs here -- Grinnin' in Your Face, Death Don't Have No Mercy -- which are as dark as anything on an early Bonnie Prince Billy or melancholy alt.country album, but by being sung by a 77-year old they carry a very different weight and meaning.
The final track is Please Remember Me. Makes me embarrassed that until two years ago I hadn't.