Graham Reid | | 1 min read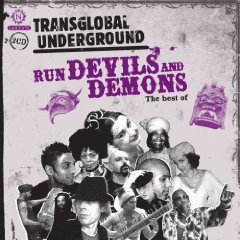 Although many of their innovative approaches have been overtaken by (often lesser) subsequent artists, TransGlobal Underground out of London set a high threshold throughout the Nineties with their implosion of dance beats, real instruments and in-house vocalists, world music references and samples, and general openness to musical ideas from Bollywood and bhangra to Jamaican toasting and jazzy trip-hop. And beyond.
These days such things are not only common but people like 1 Giant Leap can make careers and an enviable lifestyle out of doing it. But I recall going to visit the TGU record label Nation in London in the early-mid Nineties and was astonished to find that these people -- who I thought were huge, simply because I had been telling friends and readers of the Herald about them in glowing terms -- were working out of a tiny office. I conducted an interview on a staircase because it was the only space available.
TGU introduced me, and doubtless many others, to the alarmingly powerful and beautiful voice of Natacha Atlas whose keening, sensual and orgasmic sound was a hallmark of a couple of TGU albums, but also hauled in funky musical and lyrical references to Egypt, Jamaica, disconcerting samples like "this is the army of forgotten souls", thumping and relentless dance beats . . .
One of the co-founders of TGU was Nick Page who went on to start Temple of Sound with Neil Sparkes (and carry the same musically ethos, and some of the artists such as Atlas, on with him), and appears at Elsewhere in a more recent incarnation as Dub Colossus with a fascinating (but consistent) new direction. So the TGU resonances are still felt today.
Without TGU, Moby might not have had his great breakthrough -- but more importantly a lot of people would not have had quite such a good time. TGU made dancefloor music that never insulted the intelligence and although it was musically inclusive you never felt it was exploitive: everyone was in on the good vibe.
TGU shoud have been much more massive than they were -- they had some very big radio and DJ dancefloor action in the UK, notably Temple Head, International Times and Lookee Here, all on this double disc set -- but they were almost too good to be huge.
Back in the late Nineties Nation Records released a double disc collection of artists on their label -- TGU, Atlas, Asian Dub Foundation, Ambisonic and others. It was entitled . . . . And Still No Hits.
That sort of summed it up.
Never too late to discover TransGlobal Underground of course, and this expansive collection is a damn fine place to start.