Graham Reid | | 1 min read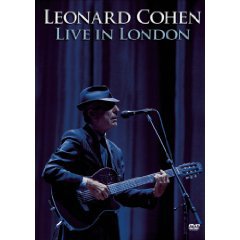 Those who saw Cohen's New Zealand concerts earlier this year -- and even those whose wallets couldn't stand the cruel gouging -- will find much to enjoy in this, almost exactly the same show, here filmed live in London's O2 Arena last July.
Musically this was an interesting concert (again, what you see here is almost identical, jokes and all, to what he did everywhere on that tour) and his superb band and backing singers could discreetly suggest Jewish music, reggae, world folk, brooding rock . . .
Little wonder Cohen should credit and thank them quite as often as he did.
The man himself was in fine form -- did he learn that skipping from watching Morecambe and Wise? -- and his dark vocals added texture and intensity to those memorable lyrics which touched places between the secular and the spiritual with equal ease.
The filming here is a little on the uninventive side but that will hardly trouble loyalists, although the gloss of his charming and self-effacing personality may be worn a little thinner when you see how much part of his act that was.
But the music here carries the show as much as his benign and avuncular presence, and if you are left a little jaded by hearing the same improv lines delivered once more, then you can simply immerse yourself in the songs and come away with considerable respect for a man who not only did it his way, but took so many on the journey with him.
PS: You should also check out the DVD of Cohen Live at the Isle of Wight 1970