Graham Reid | | <1 min read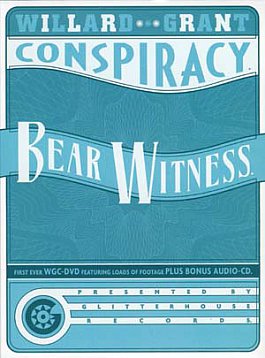 Those sensible few who caught WGC mainman Robert Fisher when he toured solo last year will need no further urging towards this impressive set which finds him with the "band" of various members: this is a CD of a Radio Bremen session from 2006 and a DVD of a 2004 concert (with outakes and interview footage) with a four-song video clip collection included.
And there's a booklet in which Grant talks about how special a concert is and how he approaches the release of a DVD/live album with great trepidation because they are so one-dimensional compared with the actual expereince.
True, but these dark songs and their confident delivery by WGC -- aching violin and musical saw, brittle guitar and some lovely keyboards -- ride right past any doubts he must have had.
WGC's last album, Pilgrim Road, has been here acclaimed as one of the Best of Elsewhere 2008, but they seem to go past many people.
Maybe this collection -- radio with pictures, as it were -- might be more persuasive. Fisher has a compelling voice and his shadowy narratives, death ballads and the like put him close to Nick Cave and Bonnie Prince Billy, but he is a much more ambitious and complex musically songwriter, as the arrangements here illustrate.
A cracker.
This excellent package comes from Germany's Glitterhouse, New Zealand contact is Yellow Eye.