Graham Reid | | <1 min read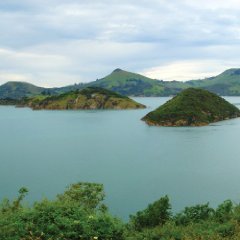 Let it be said immediately The Dead C out of Port Chalmers are a taste that few have acquired: dense, often lo-fi guitar landscapes of scouring sound, feedback and distortion probably don't make it onto the playlists of people who prefer Norah Jones -- or even the more tuneful end of Sonic Youth, in fact.
So here for Dead C aficionados -- and I suspect no one else -- is the lowdown on this release: it is four tracks of noise-core; the shortest being the opener Mansions at about seven minutes and which recalls early Pere Ubu in its groaning and mournfully slow vocals, the longest track is Stations which at 16 minutes is more of something similar but which sounds like it has been recorded from much further away in the factory/warehouse/practice room.
There is a nine and half minute, and a 12 minute track of guitar noise also. I like Plains which is the 9:39 one: it is bludgeoning and . . . . and someone just came round and asked "What the fuck is that?" before insisting I take it off.
Got annoying people dropping by? Here's your room-clearer.
I like this, but as with various Dead C albums and side projects I doubt I'll play it often.
But I just mentioned Norah Jones and the Dead C in the same piece? Result!