Graham Reid | | <1 min read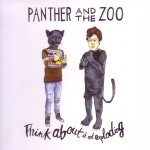 This slight four song EP -- two songs not even making the two minute mark -- might not be much to go on in terms of getting any sense of the breadth of Auckland songwriter Graham Panthers' abilities or potential, but these are lovely little minatures rendered with a lightness of touch and a vocal confidence that belies their fragile textures.
P&Zoo belong to that happy and charming vein of New Zealand music which includes the Brunettes, the Ruby Suns, Phoenix Foundation, Samuel Flynn Scott, lesserly so Dudley Benson, and Lawrence Arabia, artists who have an ear for a pop melody, a folk-pop heart and the sensibility to discreetly embellish without swamping the craftsmanship and delicacy at work.
Yep, only for tracks -- but four with interesting lyrics (love, romance and the whole damn thing) and sense of pop smarts. Nice stuff, cool cover too.