Graham Reid | | <1 min read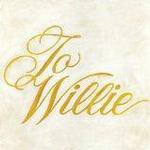 Willie Nelson may be "quite a character" and the guy who smoked a joint on the White Roof, the golfer and outlaw and so on, but he is also an extraordinary songwriter (check out the'95 Rhino box set of early and unreleased material, three CDs of genius -- from before he became famous) and here he gets a whole tribute album from Phosporescent aka Matthew Houck.
Houck from Brooklyn sidesteps Nelson's most familiar material for a collection of wry, mostly slow and slightly melancholy ballads which he imbues with understanding (the holy and oddly uplifting Permanently Lonely set on a bed of soft synthesizer is an unexpected standout).
He also reaches to Reasons to Quit by Merle Haggard (and a few other songs which Willie famously covered) and with a small and sensitive band, this comes off as perfect Sunday morning music when you might just want to sit and rue the night before, or quietly immerse yourself in some deep emotion.
Hints of gospel, slow pedal steel, intelligent lyrics delivered by a gentle and friendly voice . . .
This is as good as tribute albums get.