Graham Reid | | 1 min read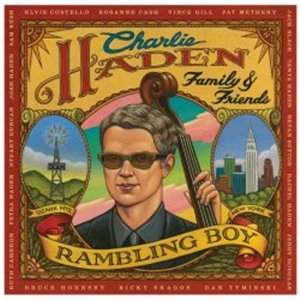 Those who only known Charlie Haden as the great jazz bassist who was in the original Ornette Coleman quartet, played with Keith Jarrett and Pat Metheny (among many others), is founder of the long-running Quartet West (which features New Zealand-born pianist Alan Broadbent) and any number of other jazz credentials might be wise to give this one a broad swerve. It's old time country music.
As a child Haden was a member of his family band in Shenandoah, Iowa and they sang country songs on radio, Charlie joining when he was two and performing until he was 15. When illness forced him to quit singing he took up bass and backed country artists until he moved to LA and met Coleman.
With a family of musician children (Josh helmed his own band Spain, his daughters Rachel and Petra had their own band That Dog which opened for Johnny Cash at Carnegie Hall in '94) and Haden's own albums referencing country music with increasing frequency, this family album was to be expected.
Here with guests such as Vince Gill, Metheny, Jack Black, Bruce Hornby, Bela Fleck, Elvis Costello, Roseanne Cash and others, the family go back to the faded songbooks for a charming and loving collection of old time songs (many of a religious bent) given a contemporary polish.
And it goes out with a crackling 1939 recording of Charlie, the "yodellin' cowboy", aged two before he comes back as his 71-year old self and sings a quivering and emotional Oh Shenandoah (with Metheny on guitar and Jerry Douglas on dobro) as a tribute to his parents.
Sentimental for sure, but purty darn good for all that.