Graham Reid | | 2 min read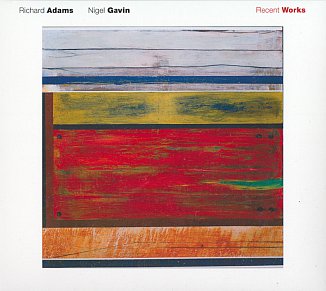 Rather than me write about this terrific album, why don't I just reproduce the liner notes that I was very happy to write for it? Here they are, they should tell you all you need to know, other than it is also handsomely packaged with Adams' artwork . . .
"My belief is that great music comes about by some kind of alchemy: it is the result of painstaking study, a rare mix of ingredients, the moment of inexplicable magic, a wondrous consequence revealed . . .
"And of those elements the most underrated is painstaking study.
"It has been over 20 years since I first saw violinist Richard Adams play and almost as many for guitarist Nigel Gavin. In the intervening period they have worked like few other New Zealand musicians, crafting their art in rehearsal rooms and recording studios, and presented their magic in concert halls and to festival audiences at home and in Europe.
"They have played in separate ensembles -- Gavin most notably with Robert Fripp -- and brought other experiences to their music: Adams is a gifted painter whose work has been exhibited internationally and who believes the visual and musical sides of his personality each set the other on fire.
"Yet when they play together -- as they have done for many years in the popular Nairobi Trio -- there is that rare alchemy at work where each inspires the other, where melodies can twist on an emphasis, and the improvisation is instinctively taken in a new and rewarding direction.
"What always surprised me having observed and enjoyed their separate or entwined careers was why they never recorded a duet album: the evidence suggested that something unique was just waiting be plucked out of the ether.
"Now that the album (with a modestly understated title I might add) has arrived there is of course understandable trepidation: would -- indeed could? -- high expectation be matched.
"Then again, given the experience, mutual respect and sensitivity, and musical intelligence these two players possess, how could it not?
"And from the vigorous, challenging and ever-evolving eight-minute opener through to the hypnotically atmospheric closer Wellington Harbour written by Jonathan Besser (who joins them on piano for this and the dramatic, woozily romantic Roundhead), this is an album of pure magic born of that instant between thought and expression.
"Catch Adams plucking the strings with pointillist precision on Sacred Hill; listen to the swirling urgency of the appropriately entitled Deal With It where each player seems to goad and needle the other into even sharper statements; be seduced by the earthy elegance of Daisy Chain or the cheeky percussive effects on the sprightly Shelf Life; grab if you can Gavin's merest hints of Hawaiian music or acoustic funk (or when he betrays a sure knowledge of rock); and everywhere admire the wit, intelligence and sense of confidence that brings this album to life.
"This is improvised music -- mostly all first take, no overdubs -- and as with an Adams' abstract painting it alludes to so much more than itself: here are elements of gypsy swing; a deserted marketplace at night somewhere in an ancient Arabia of the imagination; music for a stately European drawing room or a lively winebar . . .
"It must take something special and rare for Richard Adams and Nigel Gavin to produce music of such diversity yet coherence, to play at the top of their game but leave room for the other, to be a master of an instrument yet let it have its own voice.
"I am certain it is alchemy."