Graham Reid | | 2 min read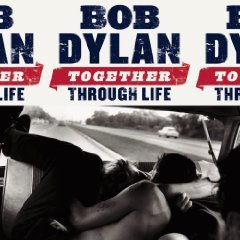 Bob Dylan doesn't exactly make easy listening music, but Together Through Life finds him in a musically mellow mood and although darkness lurks in the lyrics (guns, death, danger, songs of love and loss) there is something relaxed and almost settled about most of these 10 songs.
Where its superb predecessor Modern Times (his first number one Billboard album since Desire 30 years previous) boasted songs of profound religious and even political resonance such as Ain't Talkin', Workingman's Blues #2 and When the Deal Goes Down there are few here which equal them for depth or unsettling quality.
Certainly there is the uncomfortable moodiness of Forgetful Heart (a standout), and the tense My Wife's Home Town. But here Dylan and his band -- which includes Petty Heartbreaker Mike Campbell on guitar, Los Lobos' David Hildago on accordion -- swing easily through the breezy Jolene (an original, not the Dolly Parton song) and even If You Ever Go To Houston with its menace and historical references to the Mexican War ("keep your gun belt tied, you'll be asking for trouble") is delivered as an easy, barroom jukebox song.
As with his live concerts these days, Dylan makes musical references to a broad cross-section of American (and beyond) music: the opener Beyond Here Lies Nothing deliberately recall Carlos Santana's moody Black Magic Woman; there is urban blues and pre-rock r'n'b (Shake Shake Mama); and Hispanic music from the borderland (the beautifully world-weary but optimistic This Dream of You)
And again he pens ballads in which he suggests classic melodies from the Forties rather than sing them (Life is Hard with its vague suggestions of Hawaiian music, the leisurely I Feel A Change Comin' On with its line "some people tell me I've got the blood of the Lamb in my voice").
And there is wit here too: the closer is the uptempo r'n'b country-rocker It's All Good, a wry observation of that cliche you hear everywhere, despite the obvious evidence to the contrary.
If Dylan spent the first part of his long career sometimes unwittingly, sometimes self-consciously being "the spokesman for a generation" and penning material that wrote itself into people's autobiographies, these days it is as if he is creating a catalogue of songs which will form a vast resource of lyrically intelligent but almost easy listening for those who have the ears to hear -- and perhaps cover -- them.
Life is Hard and I Feel A Change here alongside the beautiful Beyond the Horizon from Modern Times, the previously unreleased Red River Shore and Born in Time which apppeared on Tell Tale Signs: The Bootleg Series Vol 8 , Bye and Bye from Love and Theft . . . these make for a body of impressive songs waiting to be discovered away from their current context.
They make a great burn CD in the car, I can tell you.
And Together Through Life, less difficult than Modern Times -- if we might put it that way -- is yet another fine album in Bob Dylan's on-going fortysomething-year career.
The limited edtion of Together Through Life comes with a CD of a show from Dylan's Theme Time Radio Hour (the theme is friends and neighbours and the artists he introduces include Porter Wagoner, Sister Rosetta Tharppe, T Bone Burnett, Howlin' Wolf, Carole King, the Stones . . .) And Dylan is very funy in his introductions.
There is also a poster of the album cover, a sticker and a DVD interview with n interesting guy called Ron Silver who hung around the Village in the early Sixties ("a fast talker, a street hustler," says Dylan with a wry smile) but who got Dylan into the studio to record a song called It's Blowing in the Wind. Dylan's demo is also included.