Graham Reid | | <1 min read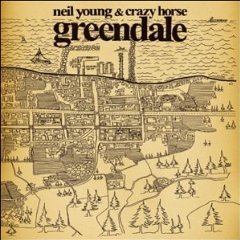 Neil Young's Greendale confirms "quirky" and "eccentric" aren't always endearing qualities, especially on a song-cycle about three generations of a family which ... blah-blah.
With Crazy Horse he wades through the dreary narrative in the voices of the various characters (all sounding exactly like Neil Young) and piles on his musical cliches.
The album is peppered with lazy writing: "When I was young people wore what they had on," is but one of the lyrical clunkers.
"Fair damsel", Neil?
There's a film and stage production apparently -- which the few who've seen say helps comprehension considerably -- but this, as an office wag noted, could be the first album to go straight to video.