Graham Reid | | 2 min read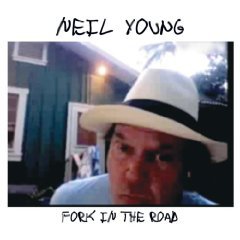 The sometimes tetchy Neil Young has long lead his followers and record company on a merry dance: he has delivered some of the most exceptional albums in rock (Tonight's The Night, On the Beach which is an Essential Elswhere album, Arc-Weld, and Live Rust among them) -- but equally he has offered self-indulgent nonsense (the over-rated and belated anti-Bush rant Living with War, the faintly absurd Greendale theatrical concept which doesn't work as an album).
Then there are those albums like Trans, the whole acoustic catalogue, and quickly knocked-off gap-fillers like Are You Passionate which are down to taste.
And just when he was expected to finally deliver the first volume of his long-promised Archives compilation he pops up with this 38 minute collection of all new material -- and it is a concept album.
Young's theme is that of America's -- and his own -- love affair with the automobile, which in these straitened times with oil prices high and resources running down, just isn't viable anymore.
But as much as this is a look forward -- he hails his Fifties Lincoln Continental which apparently has been rejigged with some fuel-efficient eco-friendly engine -- it is also the sound of an old man looking back to better days: on the title track in the persona of a "big rock star [whose] sales have tanked" he takes a swipe at downloads, elsewhere gets country-style reflective (he's still that early Seventies Laurel Canyon-cowboy in buckskins that Tom Waits despised) and pulls out a brace of Seventies-styled rock songs for the car radio.
With longtime fellow traveller Ben Keith on lap steel, keyboards and other guitars, bassist Rick Rosas and drummer Chad Cromwell, Fork in the Road has an immediacy which perhaps reflects it rapidly-recorded quality. As with the best of his work with Crazy Horse, this is mostly heads-down on-with-the-job music which largely eschews the blistering guitar work that has been his hallmark.
And the songs are rough-hewn to the point of crudity, as has been his wont on albums like Living With War. It's window-down boogie-rock on the title track and the forward momentum of Johnny Magic, and the funk-boogie of Fuel Line could have come from the days of Black Oak Arkansas and other such Seventies bands.
The opener When Worlds Collide sets the tone -- over a crunching rock chords he sings "strange things happen when worlds collide" (that would be the old and the new) -- and if you haven't got the message ("the whole world is ready for a brand new game" etc) he hammers it home with the Just Singing A Song ("won't change the world") which harks back to the sound and style of classic Young songs like Cortez the Killer and Hurricane.
John Lennon around his Power to the People period said he wanted records to be like newspapers, they would just keep coming out regularly. In that light Rolling Stone observed of Fork in the Road, as with Living With War, it was "the rock album recast as blog rant, less about aesthetic craft than about spitting out what needs to be said this minute".
In these times when people take five years between albums, Young is the living exemplar of the Lennon/blog idea: he just keeps knocking off records, some good and some not so good.
This one, as with so many Young albums in the past couple of decades, sits somewhere in the middle: at its best on lovely songs such as the acoustic Light A Candle, and some of that simplistic nod-rock boogie, this isn't too bad.
But you also feel that -- like a slighty battered automobile -- it could just whizz by while you wait for a more interesting ride.
NB: Some versions of Fork in the Road come with a DVD which has high definition mixes of the album, three handmade clips of albums tracks and a live Day in the Life filmed in Calgary.