Graham Reid | | <1 min read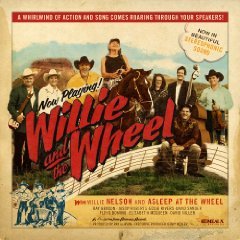 For a man who describes himself lazy Willie Nelson has been, we might observe charitably, been putting it about a bit lately. The Willie with Wynton Marsalis album didn't make as much sense as they might like to have thought, but this one is right on the money.
In many ways it is the perfect and long overdue pairing: Willie's slightly jazzy country vocals with the Wheel who are not so much Western Swing revivalists but -- under guidance of the great Ray Benson (vocals, juggling) -- keep this country/swing music of the Thirties and Forties alive and vibrant.
Urged into life by the late Jerry Wexler, this album has these like minds (plus Vince Gill and that dork Paul Shaffer from Letterman playing piano on one track, reminding us that once he had some serious jazz credibility) offering a good vibe collection of comfortable, traditional songs (Corrina Corrina, Hesitation Blues, Bring It On Down to My House, Oh You Pretty Woman) and songs by the likes of Spade Cooley (Shame On You).
This music fits these players like a second skin and if this album doesn't put a smile on your face and have your feet tapping then check if you still have a pulse.