Graham Reid | | <1 min read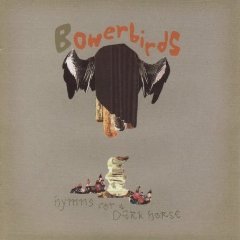 This delightful alt.folk debut for this small ensemble lead by Phil Moore from North Carolina has already won massive praise from the likes of the Mountain Goats' John Darnelle ("only once every 10 years or so does one hear a new band this good, bursting with ideas and audibly in love with music") and media such as Pitchfork ("hypnotically pretty and a little weird").
Harp nailed it perfectly when it described these 12 songs as "deceptively intricate and alluring".
This album originally came out in 2007 but has been here repackaged for their new record company with two extra tracks, and every one is a gem in miniature: poised, coloured by aching fiddle and underpinned by deep and distant drums like a pounding heart.
Moore has a gently beguiling voice and the flexible melodies weave effortless, invoking hymns as much as rural folk. There is a lovely sense of space here too.
Definitely on your list if Fleet Foxes, Bon Iver, Panther and the Zoo, recent Bonnie Prince Billy, Broken Heartbreakers, White Swan Black Swan and others along the acoustic alt.folk axis have seduced you.
Lovely.