Graham Reid | | <1 min read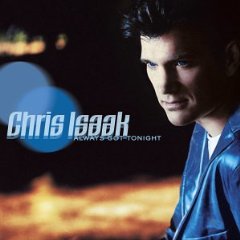 The composed and moody Isaak isn't a guy you'd credit with a sense of humour but his TV show, sort of sitcom-cum-real life, was so self-deprecating he's going to get a fairer hearing round my way from now on.
That said, little has changed since his last album four years ago — the humour injection notwithstanding — and here he still smoulders away of moody ballads and songs about being hurt by love, all delivered over classic and memorable chord changes with tastefully stinging guitar when required.
It only breaks his long-established pattern on the edgy Always Got Tonight and the snaky Notice the Ring. So it's more of the same from Mr Isaak, although Let Me Down Easy could just be the best heartbreaker Roy Orbison never sang.