Graham Reid | | 1 min read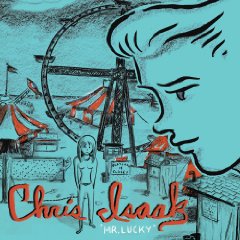 I've got a soft spot for Chris Isaak for a couple of reasons: I interviewed him and he was a genuinely likable and funny man, and his television series was an astute and self-deprecating show about the life of a musician in which he didn't spare himself from ridicule for his self-delusion, pomposity and arrested adolescence..
In one episode Isaak --- who played "himself", the series had his real band members who were very dry also -- is invited back to his hometown where they are renaming Main Street after him. Backstage at the mayoral reception he is waiting with an old lady. He asks her why she is there and she says her late husband had opened children's hospitals (or something) -- he sounded almost saintly -- and that she was there because they'd previously named the street after him. She was Mrs Main -- but then said gently she was sure that he (Isaak, now cringing with embarrassment) had probably also done something very important . . .
If the show comes around again, check it out. Good guests (Gavin Rossdale, Billie Joe Armstrong, Bret Michaels, Lisa Loeb) often playing slightly unpleasant versions of themselves too.
Aaaanyway . . . this is Isaak's first studio album proper (we don't count the Christmas one) since Always Got Tonight in 2002 and as always this is a beautifully delivered collection of often uneasy lyrics (unfaithful lovers, loss, loneliness) alongside that sub-Orbison soar and the vaguely country twang of his band (here sometimes given an impressive Eno-U2 sonic soundscape treatment).
He duets with Trisha Yearwood and Michelle Branch, but it is darker material which open this with a three punch strike which really impress: the anxious Cheater's Town, the emotional distress of We Let Her Down and the aching You Don't Cry Like I Do.
Some will fast-forward through the couple of chipper country tracks (We've Got Tomorrow, Mr Lonely Man).
I suspect it's fashionable to dismiss Isaak as a charming, wannabe-Orbison crooner and a bit of a lightweight, but there are plenty of songs among the 14 here that give the lie to that. The guy can take apart his heart and a lyric like few others, and there's also ample evidence here that he writes some of the most pointed and lyrical ballads around these days.
And frankly, what's wrong with sounding a little like the great Roy Orbison on dramatic originals like Baby Baby and Summer Holiday? He can pull it off with style.
Chris Isaak doesn't record often these days -- this is only his third album in maybe 12 years -- but he's always someone worth hearing.