Graham Reid | | 1 min read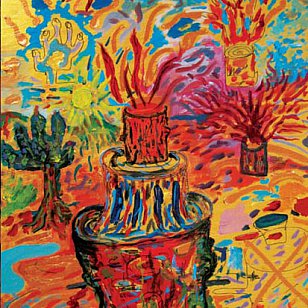 As we all know, song lyrics are rarely poetry -- and conversely poems, especially contemporary poems which don't bother with rhyme schemes, can't often be readily adapted into the service of a song.
Singer-guitarist David Kilgour of the Clean here takes some of Sam Hunt's poems (despite the attribution, Hunt's distinctive sing-song voice isn't heard here) and works them into a breezy folk-rock with a little guitar jangle. But there's a musical and emotional restraint throughout that doesn't always serve the lyrics -- although the consistent tone could doubtless have wide appeal, especially to those who have followed Kilgour's recent, and uniformly excellent, solo albums.
And his downbeat delivery throughout reminds me of the tone on Lloyd Cole's solo albums, a similarly off-hand story-telling and easy way with a lyric.
But Kilgour and Hunt together will inevitably throw up real gems and they are scattered throughout the song/poems (which are book-ended by a little sonic scene setting): the strum and easy melody of Every Time It Rains Like This which uses the title as the pivot; Talking of the Winter which could have slid easily into an earlier Kilgour album; and the Dylan-style settings of They Are Clouds and the acoustic A Summertime Blues for Tom.
Kilgour tells a good story about how this project came about, ("serendipity", he says, using a word I have always loved) and of course the attraction of Hunt's words is entirely understandable, they can be deeply engaging -- even if the musical setting Kilgour offers isn't always so (I Throw You Flowers, the rather lightweight melody offered the aggressive words of First One Hit, Friend to Many which again opts for melody over meaning).
So, uneven as might be expected when it comes to setting poetry to pop, but peppered with highlights nonetheless.