Graham Reid | | 1 min read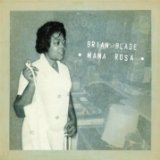 This multiple-threat recently appeared in New Zealand as a member of the John McLaughlin-Chick Corea Five Peace Band and even in that illustrious company made an immediate impression as a drummer of exceptional character and energy (see bottom of this page for a Five Peace Band concert review.)
Jazz drumming doesn't come much more intelligent, musical or as enjoyable to watch than Blade when he sparks, as he did in concert.
But -- and this is the big but -- he is a man whose talents are many: this album catches him as a soulful, singer-songwriter in an extended song-cycle meditation on family with a production which owes much to the warm sonic ambience of Daniel Lanois (who here plays bass and guitar in places).
Singing from different perspectives (After the Revival is his mother before the birth of Blade's older brother, and references the gospel church) and nakedly autobiographical in places, this is a gentle and thought-provoking collection which is marked by restraint and understatement: it's a listening album in other words and nothing throws itself in your face.
But it rewards attention: the gentle Second Home with Greg Leisz of Emmylou Harris' band on pedal steel guitar; the soft and slow thoughts on someone gone on You'll Always Be My Baby (his mother again? him to a lover?); the almost urgent instrumental Struggling With That and Eno-like ambient All Gospel Radio which conjure up wide open spaces, his gentle treated-piano closer on Psalm 100 . . .
For a drummer, Blade plays a lot of fine guitar here and although his vocals are necessarily intimate and low (the nature of the subject as much as perhaps his limitations) this is an album -- sometimes referenced in too- familiar areas such as Eno and spacious alt.country -- which works best when being engaged attentatively.