Graham Reid | | <1 min read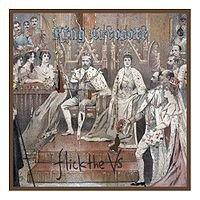 Scottish singer-songwriter Kenny Anderson, aka King Creosote, gets away more albums and EPs than I see local buses: I think he's closing in on Bob Dylan's tally somewhere in the mid-40s -- and he seems to average about three a year on his own Fence label.
So if you've missed him, or don't have the time for this one, don't worry about it: within a few weeks he'll be back with something else.
He's an interesting and well-connected guy: apparently he's the one who brought KT Tunstall to greater attention; his brother Gordon is the singer in The Aliens; on this album Jon Hopkins plays keyboards, xylophone and piano; and Steve Mason (formerly of the Beta Band and now an Alien) also drops by for some vocals.
As you might expect from someone who is so prolific, these are moderately lo-fi alt.folk songs with embellishment from electronica and strings (and a little Fifties rock'n'roll sax on the poppy No Way She Exists), but Anderson writes a nice late Sixties/early Seventies folk-rock melody and in his very easy and charmingly self-deprecating manner he could just win you over -- especially if the Beta Band/Aliens/Syd Barrett axis appeals.
We'll pick up Kenny again soon, I'm sure. Meantime . . . .