Graham Reid | | 1 min read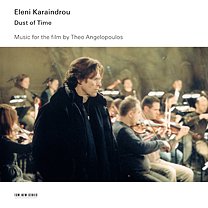 The Greek composer Eleni Karaindrou released an extraordinary double album in 2005, Elegy of the Uprooting which employed a full orchestra, choir, herself on piano, singer Maria Farantouri and many more.
In evocative passages of aching music and the most delicate of melodies she delivered an evocation of people suffering from exile or abandonment, or going through the emotions of homecoming or departure.
This was music reflecting our troubled time when whole peoples have been displaced and dispossessed, when homelands are vanishing beneath communities and nations. And it was music which spoke to the deepest parts of the soul.
Curiously however this was not a concept album, but the separate pieces had been composed for a number of soundtracks to films and for stage productions over the years.
Yet such is the coherent vision running through her work, that Karaindrou has a signature style coupled with a profound vision.
Born in a Greek mountain village, Karaindrou has been composing for film and theatre for over 30 years yet her work is not dependent on that other media, it stands as pure music also.
Dust of Time is also a soundtrack (once more for a film by Theo Angelopoulos, this featuring Willem Dafoe) and it is music for the story of a film director tracing his life through his film of his parents and the dark histories they lived through in Europe, from the fall of Stalin to the modern day with its emotional dislocations.
Again, the composer is on familiar emotional ground and so once reaches a point between orchestration and folk-inspired world music. There is Balkan/Greek feel to the music although it is barely discernible and hard to specifically identify. Karaindrou's music always suggests more than it states.
This is penetrating music from melancholy accordion, weeping violincello, low oboe and the like.
No, it certainly isn't a bundle of laughs, but it is exceptionally beautiful and moving.