Graham Reid | | 1 min read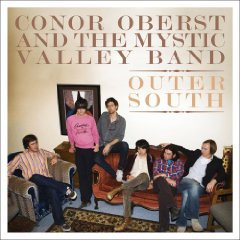 You don't have to get too far into this album -- maybe just a few chords in fact -- to click that this isn't the Conor Oberst (aka Bright Eyes) of previous releases, the guy who started by juggling electronica dabbles with folksiness, then moved into alt.folk and bent pop.
This time out with a bunch of friends who share an affection for Seventies pop-rock and singer-songwriters -- as well as bristling Dylan in '66 and early Seventies electric Neil Young (notably on To All The Lights which is a quasi-religious narrative involving Moses, Jesus and Solomon) -- Oberst pulls out power-pop chords on the lively Air Mattress, swoops down for some early Wilco-styled country-rock (Cabbage Town) and I'll be damned if they aren't right into Black Grape ranting on the Madchester-framed Roosevelt Room.
There's alt.folk here, human fragility and need (the slightly soulful Difference is Time sung by drummer Jason Boesel which almost makes melodic reference to Dancing in the Moonlight) and bitter humour ("I don't want to go to your Mason lodge, there's nothing more sad than a lynching mob full of rational men who believe in God" on Nikorette).
So this is no throwaway album of mates bouncing off their record collection, these are crafted songs and lyrically they bristle with indignation and rage (Roosevelt Room), his lyrics stab and probe matters of faith and politics, and he crafts memorable lines around gripping melodies ("dementia, you better treat me good, the human race is in its second childhood", "that's the thing about charisma, it makes everyone believe").
There are dozens of musical ideas and great songs here -- from spare acoustic melancholy on White Shoes through breezy Jackson Browne folk-rock on Bloodline (sung by guitarist Nik Freitas) to songs aimed at stadium air-punching. It reminds me of World Party's superb Goodbye Jumbo in that it draws from so many areas of the past but makes them feel utterly relevant, contemporary and often just plain enjoyable.
With a great band (Hammond organ, stinging electric guitar and 12 string) and a democratic approach to who writes and sings what, Oberst has done more than just have a sabbatical in Mexico with some friends.
He's made the most interesting, pop-driven and consistently enjoyable album of his career, and one which keeps your attention right through its 16 song, 70 minute running time.
Terrific.