Graham Reid | | 1 min read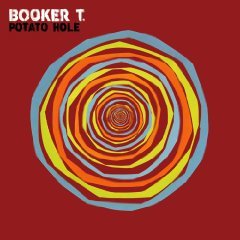 This was either going to be brilliant, or . . .
First the background: here is the great soul-funk Hammond B3 organ player Booker T (he of Green Onions fame with the MGs, and that band behind dozens of Stax artists) teamed up with Southern rockers Drive-By Truckers who know this sound and style inside out. Oh, and Neil Young (who toured with Booker T and the MGs in the early Nineties so also knows this stuff) drops by to play guitar in most places.
So far, so enticing.
But what should have been a thrilling collision of talent comes off as a somewhat ill-considered selection of material in which the Truckers bludgeon a bit too much.
Their take on OutKast's Hey Ya nails it -- energetic pop-funk with wiry guitar and swinging organ which could have floated in from some time in Booker T's heyday in the Sixties -- and their version of Tom Waits' Get Behind the Mule is a moody but groove-grounded affair.
And when the mood turns softer (Reunion Time, the lightweight Nan) things float by well enough, albeit in an underwhelming way.
But elsewhere (the title of the opener Pound It Out hints at what follows) the Truckers' tub-thumping approach hammers the nuance out of the material (Native New Yorker, Warped Sister, the title track). And Space City sounds like a rather-too-near cousin to Blind Faith's Presence of the Lord to be considered original or interesting.
Booker T hasn't recorded in some while and because the Truckers have been behind excellent Southern soul career-revival projects such as the Best of Elsewhere 2007 album The Scene of the Crime with Bettye LaVette, this one held much promise, but it mostly fails to fire in the way you might expect.
All-instrumental albums such as this are delicate balancing acts between familiar material or that which hooks you in immediately, and material that has depth and emotional longevity. Too much here just weighs in like a fighter out to make a quick impression because he knows he can't go the distance.
Disappointing.