Graham Reid | | <1 min read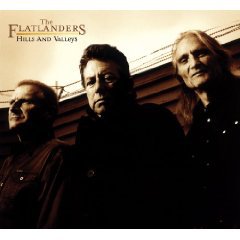 The great Flatlanders from West Texas - Joe Ely, Jimmie Dale Gilmore and Butch Hancock, each one a name in their own right -- record together so infrequently that every album (they average one a decade about 40 years) is an occasion.
Unfortunately it is never quite the special occasion you wish for. This one starts with the exceptional Homeland Refugee which is as a harrowing and true reflection of hard time in contemporary America after the sub-prime mortgage crash as you'll want to hear as it reverses Woody Guthrie: "I'm leaving California for the Dust Bowl, there's nowhere else left to go . . . there's refugees behind the abandoned Texaco, we nod and know we're all the same".
And later there is strong material from the rocking The Way We Are from Gilmore to Hancock's Thank God for the Road, but material like Borderless Love (a well-intentioned Tex-Mex take on that wall between the States and Mexico) sounds limp and flat in the comparison.
Gilmore on After the Storm conjures up little of the magic he is capable of (yes, aching and lovely, but that comes easy when you have a voice like his) and Wishing for a Rainbow is yet another watery, sentimental piece. And there are more like it.
So, uneven -- as have been all their albums since that debut all those decades ago. But fans -- and there are quite rightly very many -- will find much to enjoy here.