Graham Reid | | <1 min read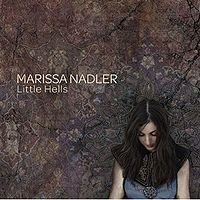 Sounding as if she is being beamed in from some strange part of space down a shimmeringly beautiful cosmic line, this dreamy alt.folk singer from Boston manages to bring together a slightly eerie quality and distant guitar with a voice which could lure sailors onto rocks.
There's a slightly Gothic charm at work here (she's referred to Edgar Allan Poe in the past), but you can also hear why she has won so many local singer-songwriter awards and accolades from the likes of the New York Times ("spectral reverberations").
Nadler benefits from the production which keeps her at some sonic and emotional distance, and the dreamscape setting -- even when the pace is slightly picked up for the pulsing electronics of Mary Come Alive -- gives this whole thing a seductive folk-ambient quality.
A new name perhaps (this is her fourth album in five years however), but if your taste runs to a point between Rachel Unthank, the moody Sinead O'Connor, Nick Drake and others along the faultline of ambience and alt.folk then Marissa Nadler is a name you definitely need to know.