Graham Reid | | 1 min read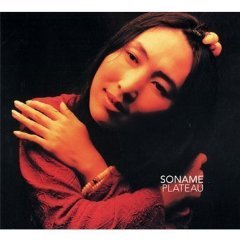 Latterly it seems that the world is resigning itself to having a Tibet in the absence of Tibet: holding the notion of Tibetanism and that country being kept alive by the diaspora, even if the country doesn't exist as it used to.
Most people in the West have a misty-eyed Lost Horizon/Shangri-La view of that country as a place of deep mysticism and benign lamas, but that would deny the punishing theocracy which ruled the place before the young Dalai Lama fled over half a century ago. This is not to suggest that the Chinese army of occupation has "liberated" the poor, just to acknowledge that things aren't quite as clear cut as many would have us believe.
Certainly many Tibetans in exile keep the spirituality, religion and culture of that beleagured place alive, although we must also wonder how the second and third generations born in exile in places like Switzerland and the United States feel.
Soname Yangchen's second album is perhaps typical of much of the Westernised Tibetan music we are used to: it is scrupulously produced but retains elements of Tibetan chants, but she also has her own spin behind her wafting vocals.
On her journey to London she spent time in India and so incorporates tabla drums and flute in her music (pretty good actually) and this grounds it a little more.
It wafts away in places when the Western orchestration comes in, but otherwise this is interesting enough although it will appeal to Enya fans more than those used to more guttural and gutsy Tibetan music.
Incidentally, before Soname found fame as a singer she wrote Child of Tibet about her years in virtual slavery before fleeing her Chinese-occupied homeland at age 16. It is a grim but ultimately quite an uplifting story.