Graham Reid | | <1 min read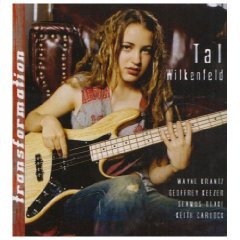 Anyone who saw Jeff Beck in concert will need no second invitation to this one: Wilkenfeld was the exceptionally gifted bassist in the band and who rightly drew unconstrained applause after her solo spots.
Australian-born Wilkenfeld, who is still in her early Twenties, moved to Los Angeles in her early teens, and then to New York, and along the way has played with (among others) the Allman Brothers, Chick Corea, Herbie Hancock, Wayne Shorter, Susan Tedeschi, Eric Clapton . . .
She also helms her own band and this album is their debut from 2006 which is mostly full square in the funk-rock fusion area where she displays the energy of a young Jaco Pastorius although not quite employing his virtuoso flourishes or bebop dexterity.
As with Jaco however, it is in the more considered tracks (notably the ballads) where she shines, pulling in a soft and singing tone. She also falls back behind her equally young band which includes pianist Geoffrey Keezer, guitarist Wayne Krantz and tenor player Seamus Blake who are given generous space.
Essentially this is Wilkenfeld's showcase -- but on the evidence of her appearance with Beck's band, she's come even further in the past few years.