Graham Reid | | <1 min read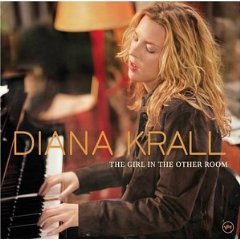 Krall has been among the more anodyne of "jazz" artists and while her lightweight stylishness has undoubted appeal for less demanding listeners there has often seemed an emotional vacuum at the centre of her breathy vocals and constrained piano playing.
While she may be her own woman you can't help note that marriage to Elvis Costello -- who co-writes most of the lyrics here -- has changed her for the better. She opens with Mose Allison's Stop This World ("snouts in the trough" is a line you don't expect from Krall) and later delivers Tom Waits' moody Temptation. But it's Costello's slightly sniping, sensual or tart lyricism which elevates this into the realm of intelligent listening. The title track oozes a film noir sexual ennui, she digs into Chris Smither blues and Joni Mitchell's Black Crow, and throughout loosens up her piano playing (jazz is now a word you can happily use about her).
With a roster of name players (Christian McBride, Pete Erskine, Jeff Hamilton) and a more nuggety approach, Krall has made her most satisfying album yet. Recommended.