Graham Reid | | 1 min read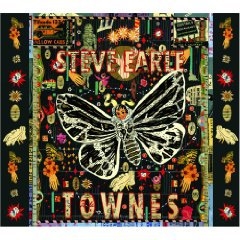 The legend of Townes Van Zandt (who died age 52 on New Year's Day 1997) continues to grow and the somewhat messy details of life -- depression, alcoholism, drugs -- have faded steadily to allow a greater clarity in which his dark but often beautiful work can shine.
Down the decades he has been covered frequently by the Flatlanders (together and solo), Norah Jones, Willie Nelson, James Mc Murtry, Emmylou Harris, Bob Dylan in concert, and uber-fan Steve Earle who named his son Justin Townes Earle -- and here delivers a 15 song tribute by covering some of Van Zandt's best, and least, known songs.
Van Zandt was as much a folk musician as a country singer-songwriter and the breadth of his writing allows Earle plenty of room for interpretation. There's an emotional, stripped down approach (Colorado Girl), back-porch acoustic blues in the manner of Fat Possum recordings (Brand New Companion), Where I Lead Me is given an urgent, whisky-throat treatment with wheezing harmonica and thumping bass, and Lungs comes with ripping guitar and processed vocals (and is produced by John King of the Dust Brothers).
Elsewhere Earle's wife Allison Moorer adds backing vocals on the chunky country-thump Loretta and To Live is To Fly. Son Justin joins him in places too.
Recorded over a period of years and in different locations, the sound of the songs also varies wildly from close-miked intimacy to widescreen full studio production.
Van Zandt's best known songs -- the ballad Poncho and Lefty which usually gets an upbeat treatment but here is down tempo, and the melancholy To Live is To Fly with the line "living's mostly wasting time" -- bookend an album which, against the odds (because Townes' work is rapidly becoming de rigueur in alt.country) is moving and sometimes powerful.