Graham Reid | | 1 min read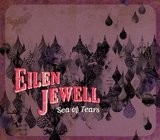 This wonderful singer-songwriter who bridges alt.country, early Lucinda Williams and a jazzy shuffle beat like some chanteuse from Paris (that would be Paris, Texas) has appeared at Elsewhere with her previous albums, Boundary Country and Letters from Sinners and Strangers. both of which have a kind of world weary quality which was critically acclaimed.
Well, if it ain't broke . . . ?
But here back with her twanging and tight little band (with Jerry Miller on guitar, a highlight every time who shines everywhere for his stinging or loving lines) she traverses darker emotional terrain and sometimes taps into classic rock'n'roll country music for a collection which is (mostly) looser and louder than its predecessors. The title track fairly throbs along over menacing guitars, I'm Gonna Dress in Black has an undercurrent of repeated guitar lines like the Animals' version of House of the Rising Sun, and she even covers Shakin' All Over.
The opener Rain Roll In over a Byrds/Tom Petty jangle offers dark poetry to set a tone: "Someday my life will be over and no one will remember my name. But that's all right because what's in a name, who needs another one to memorize anyway? Make no fuss over my grave, just plant something pretty and call it day . . . let's just listen to the rain roll in . . ."
This could be depressing yet Jewell's dry delivery and the elevating guitar jangle make it oddly pragmatic to the point of life-affirming.
She is quite the noir-poet in much of her material: the dark ballad Sweet Rose seems to be about a partner having an affair with a friend, but she can barely rouse herself to care; Fading Memory might be addressed to him after he's left "(if you said you're sorry now, it wouldn't matter anyhow . . . I'll take back all those years when I go, they mean nothing to you I know"); and the brooding Final Hour opens with "these cheap white walls call for out for a drunken scrawl but tonight is a static scream and I don't feel to do anything, anything . . . light me up or turn me on, just don't play the same old song . . . I want to live like I'm on fire."
And the album closes with the yearning and suicidal Codeine Arms
She gets almost close to pure country on Nowhere in No Time, folk-blues with that jazzy swing on the acoustic One of Those Days (another dark narrative, sittin' on the back porch with a loaded .44, "it's one of those days") and she covers Loretta Lynn's The Darkest Day fairly straight.
Jewell is a rare one and this album shifts rapidly between that rock'n'roll pulse, a country melancholy and a deep and slightly disturbing intelligence. Any way you cut it, it's other gem from a Jewell.