Graham Reid | | 1 min read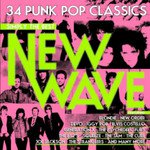 Billed also as "34 punk pop classics" this double disc illustrates just how bewildering but rewarding that period in the late Seventies was when the punk ethos (energy, short sharp songs) was given a slight sheen of musicianship and production values.
Nothing here says "punk" to me as we understand that bristling UK movement spearheaded by the Sex Pistols, the Clash and the like. And anything which includes the pub-rock of Dr Feelgood and ragged Wreckless Eric (among others) certainly isn't all New Wave either. But this is a decent jukebox-styled compilation of enormously diverse artists, mostly from '79-'81.
Anticipating those years however are the Modern Lovers with their stripped back Roadrunner from '72 and at the far end some many years after New Wave are the Violent Femmes with Blister in the Sun.
And just how accommodating was a period that it allowed for this diversity: Elvis Costello's acerbic politics (Oliver's Army), the Only Ones' guitar-driven pop-rock (Another Girl Another Planet), the B-52's mannered and kitschy electro-pop (Planet Claire), Gary Numan's aloof electro-beat (Are 'Friends' Electric), Television's studied seriousness (Glory, a lesser moment) and the cynical power-pop of Cheap Trick (Surrender).
These songs shared space in their period -- and here again -- with Mink DeVille from the Hispanic switchblade streets of New York (Spanish Stroll), Joy Division's frosty view (Love Will Tear Us Apart), Dave Edmunds' pop-rock (Girls Talk), Devo's psychotic-rock (Whip It) and Jona Lewie's cold-water flat melodrama (You'll Always Find Me in the Kitchen at Parties). And more like the Cars, Patti Smith, Lena Lovich, the Beat, Iggy Pop . . .
Yes, these were exciting years and this schizophrenic, wide-spectrum and largely incoherent collection -- party music for people in their late 40s, or one for the car? -- conjures up the spirit well enough.
If it was the "punk" word that dragged you in you'd be disappointed however.
For that particular clip around the ears you need the 1999 Universal four CD collection 1-2-3-4: Punk and New Wave 1976-1979. That includes Slaughter and the Dogs, UK Subs, Richard Hell, Johnny Thunders, the Users, Angelic Upstarts etc.
It'll really knock the stuffing out of you.