Graham Reid | | <1 min read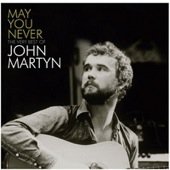 Sadly you suspect this compilation would not have appeared if John Martyn hadn't died in January 2009. The great British singer-songwriter had a troubled life but along the way created some exceptional music.
His finest record -- and an Essential Elsewhere album -- Solid Air of '73 has been simultaneously reissued in a Deluxe Edition, and last year his dark, post-separation album Grace and Danger ('80) got similiar and much deserved attention.
As cornerstones to Martyn's long career they deserve to be heard in their entirety. But if you come to this man, born Iain David McGeachy, with little prior knowledge, this 15 track compilation drawing from his finest decade (the Seventies, with a '96 Talvin Singh remix of Sunshine's Better and Martyn's '87 version of Somewhere Over the Rainbow added) is fair enough.
An expressive singer and a gifted guitarist who experimented with echoplex effects (heard here on the gorgeously ambient, eight minute Small Hours), Martyn quickly went beyond his folkie origins and seduced the ears of Eric Clapton (who covered the title track here giving Martyn some ready cash) and those on the cusp of jazz.
Martyn was a troubled (and to his long-suffering friends, sometimes a troubling) genius. But he was a genius. The evidence is hinted at here -- and is persuasive on Solid Air.