Graham Reid | | 2 min read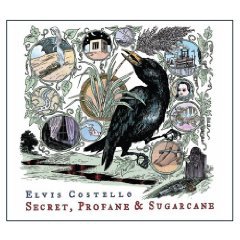 On his what is his thirtysomethingth album here's Elvis Costello's problem as I see it: it is his thirtysomethingth album.
As with Eric Clapton who could deliver the best album of his career tomorrow and watch it go largely ignored (as McCartney found with Flowers in the Dirt of '89 where he co-wrote with Costello), a lot of people have stopped listening to artists who seem to have always been there.
After all, in Costello's case you could have had him in rock mode, with strings attached, with Bacharach or jazz pianist Marianne McPartland or New Orleans legend Allen Toussaint, the ballet thing . . .
How many more albums by Costello might you want?
Well, I'd hope you might want this one, it's a Costello album to come back for if you've absented yourself.
He seems to have (mostly) lost that annoying vibrato that he plastered across the ballads on his albums from the late Eighties, but he's also gone back to one of his first loves -- edgy country music -- and reconnected with producer T Bone Burnett (who produced King of America and Spike, toured with El as the Coward Brothers, and here co-wrote two songs).
So far so good, and Costello also got himself down to Nashville to record with Jerry Douglas (dobro), Jim Lauderdale (vocals) and a small band, and pulled out the previously unrecorded and achingly beautiful I Felt The Chill Before the Winter Came (which he co-wrote with Loretta Lynn).
Apparently some of the songs here were also taken from his unfinished (abandoned?) commission by the Royal Danish Opera, The Secret Songs, about the life of Hans Christian Andersen: if so, they have been hugely overhauled to sound like dark, bucolic and brooding country music.
Those songs -- the gorgeous She Handed Me A Mirror about unrequited and impossible love ("the crushing word like 'friend' "), How Deep is the Red?, She Was No Good and Red Cotton -- make for a mini-suite because each contains a narrative, and Red Cotton is as fine a piece of social commentary (slavery days) as Costello has ever written.
Elsewhere he also pulls in storylines (Down Among the Wine and Spirits is appended "former champion prizefighter discovers his name printed just above the liquor licensee" and others songs are equally framed).
Costello, settled into marriage and twins with Diana Krall, also wears his heart on his sleeve in The Crooked Line which has Emmylou Harris on harmony vocals: "If you were my life's companion as it seems it may turn out . . . I hope I'll find you waiting at the end of this very crooked line".
After that the final track Changing Partners, from the Fifties which Dinah Shore, Patti Page and Bing Crosby once sang -- and which is a cousin to The Tennessee Waltz -- makes perfect sense as a gentle coda: "I'll keep changing partners till you're in my arms again, then I'll never change partners again".
Elvis Costello makes a lot of albums, too many for most people. But here -- with country fiddle, and crafted songs (a number from a woman's perspective) which have stories to tell -- that sometimes irritating and overly-familiar voice, is back in the game.
If you only buy one Elvis Costello this month . . .