Graham Reid | | <1 min read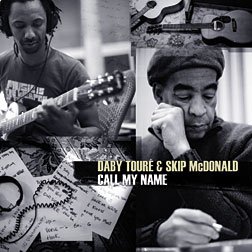 Given that singer/guitarist/bassist Skip McDonald is somewhat of an Elsewhere favourite in his Little Axe guise and here get assistance from drummer Keith LeBlanc, McDonald's fellow traveller in the Sugar Hill Band, then later with On-U Sound and working with everyone from the Rolling Stones to Living Colour, it would be good to like this more.
But this six track EP never quite rises to heights or reaches dark places either.
This collaboration with West African singer/guitarist Toure enjoys some rolling grooves and when there is some trans-Atlantic guitar interplay it makes sense. Their reworking of the old spiritual Sinnerman Where You Gonna Run To (here as Sinners) gels nicely. But in other places it seems lightweight, emotionally and musically.
The high point is McDonald's Time Has Come which has a brooding intensity that Toure's more pop sound lacks. But overall a disappointment.