Graham Reid | | 1 min read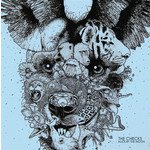 If this was "the difficult second album" for local rock'n'roll darlings The Checks it certainly doesn't sound it: it struts with well placed self-assurance and if in places the song-craft isn't quite what we might expect you have to hand it to them, they have broadened their palette from that British r'n'b rock '65 sound which was their hallmark.
Here they cannon off into thick riffery which has echoes of early Led Zeppelin, unleash some guitar firepower in the manner of mid-period Hendrix and indulge in some eerie psychedelics.
There's a case to be made that the album doesn't start with its strongest material, but certainly by Ballroom Baby (four tracks into a 13 song journey) with its ticking guitar figures and suggestions of choppy ska riffs, they are right on target. And even better follows.
Back of the Restaurant -- where vocalist Ed Knowles has a slightly lascivious and lazy delivery -- hints at early Radiohead and Blur, but the sense of menace and laconic lust sets it apart.
Any Man Here Will Run You In works off a weird Anglo-folk feel (driven by industrial strength guitars however) and the sublime, mysterious God Birds as the centrepiece of the album takes off at a midpoint between late Sixties melodic psychedelic rock and the density of Sonic Youth. Think Fleetwood Mac's Albatross conceived by Syd Barrett in Thurston Moore's cement mixer before it unwinds into ambient space music. It is one to hear alright.
On the other hand they aren't averse to some head-nod boogie riffery (Isabella) or bristling power rock (Crows) either.
Singer Knowles (whose voice is processed in places to add an extra texture to it) has widened his range, but a standout feature is the breadth of the guitar sounds this band is now capable of -- which was hinted at on their debut Hunting Whales. Here there is a real snap and twang in places, at other times a buzzsaw attack over woozy keyboards (Let Your Lover Know), and on the thumping You And Me a barbed wire part that wends its way through the middle. There are places where the six strings here really sing'n'sting and restore your faith in the "short, sharp, guitar solo".
And you gotta love any album that ends with a track like the easy pop of Hold My Head which rather charmingly stumbles to a close.
This isn't an album that offers itself up on a first hearing -- and the "random play" button might also work in its favour -- but the Checks have stepped well past their obvious origins into some daring territory. There is ample evidence these guys can hold a band together so it is also likely that this album, outstanding in places as it is, will be an important stepping stone to their killer to come.